Stop Smoking
"Warren changed my life, I stopped smoking over a year ago and he helped me do it, I couldn't believe it…..Now I actually can't believe I was ever a smoker!" – Carol
Tobacco is one of the most addictive substances known to mankind, and smoking is one of the most difficult addictions to overcome. Enormous damage is caused by this addiction. Find out how to stop smoking successfully at our Belfast practice.
Hypnosis is a safe and effective way to quit smoking permanently. Unlike other techniques, such as the nicotine patch or medication, hypnosis works by making powerful suggestions to the subconscious that eliminate the desire to smoke and replace the habit with a healthier alternative.
The success rate using hypnosis for quitting smoking completely is amazing. Studies show a higher success rate for smoking cessation with hypnosis than quitting by other methods, like stopping cold turkey or using nicotine replacement products.
If you can honestly say to yourself that you are ready to give up smoking, you can … and hypnosis can help you quit smoking permanently, with no nicotine patches or gums, no pills, and no side effects!
"Hypnosis Most Effective" Says Largest Study Ever:
3 Times Effectiveness of Patch and 15 Times Willpower.
"Hypnosis is the most effective way of giving up smoking, according to the largest ever scientific comparison of ways of breaking the habit. A meta-analysis, statistically combining results of more than 600 studies of 72,000 people from America and Europe to compare various methods of quitting. On average – hypnosis was over three times as effective as nicotine replacement methods and 15 times as effective as trying to quit alone."
Resource: University of Iowa Journal of Applied Psychology – How One in Five Give Up Smoking, October 1992. (Also New Scientist October 10, 1992), Schmidt, Chockalingam
"90% Success Rate with Hypnosis – Authors report a success rate in smoking abstinence of over 90% with hypnosis."
Resource: MMW Fortschr Med. 2004 May 13;146(20):16. Klager, R.,
[Article in German]PMID: 15344725 [PubMed – indexed for MEDLINE]
To stop smoking it's £150 – that's often less than the cost of 2 weeks smoking 20 a day!
Vanquish Vaping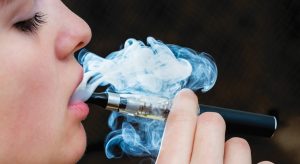 A fantastic way to quit E-Cigarettes in under 60 minutes!
A new study has found that flavoured e-cigarettes produce 'unacceptably dangerous' levels of cancer-causing toxins.
http://www.independent.co.uk/news/science/e-cigarettes-cancer-vaping-risks-health-effects-flavoured-toxins-safety-study-a7409206.html
Have you kicked the smoking habit only to replace it with another nicotine dependancy? We also don't know the long term effects of vaping yet.
If you want to make the final step to freedom from nicotine then I can help.
Because you have already made the 1st step by quitting cigarettes successfully with Hypnotherapy, I can help you be completely free from the smoking habit in under 60 minutes!
Just get in touch to find out how.
Freedom from vaping is £99