Home > Extra Strong Package
Extra Strong Range
4800MG
Experience ACCESS CBD® in its most potent form, this broad plant spectrum extract contains hundreds of unique cannabis compounds and is naturally flavoured with real cannabis terpenes and fruit flavours.
CBD Content: 4800mg (17.02%)
THC Content: Zero (<0.01%)
Description
Our extra strong CBD is brought to you by the UK's CBD market leader, but is 70% cheaper compared to other CBD brands.
So, the question is why would you pay more? Across the range, we have full control over the process from seed-to-shelf ensuring this CBD is low in price, but high-quality.
We go above and beyond at every level, not just with our exceptional value but the support we give our customers. Incomparable care and pride is taken in producing the very best products.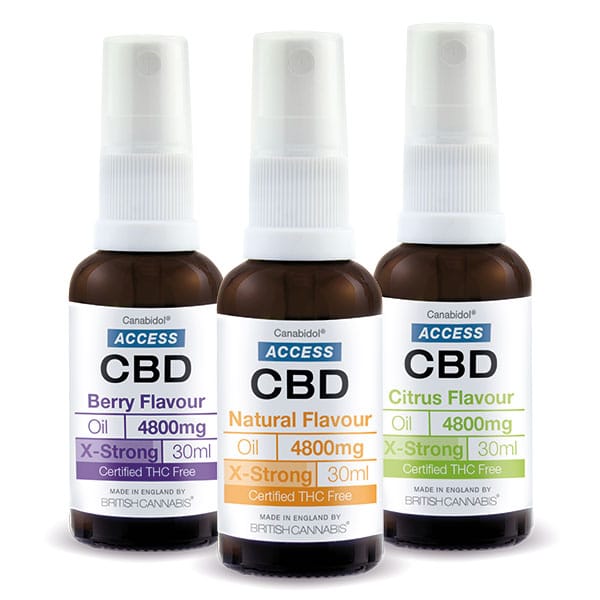 Directions For Use:
Our 4800mg extra strong CBD oils are fitted with a spray nozzle, making it easier to dose and no mess! Spray under your tongue, hold for one to two minutes.
One spray of 4800mg CBD oil delivers 68.6mg of CBD. Allow the CBD to be fully absorbed before swallowing.
Why You'll Love ACCESS CBD
We produce affordable, great tasting, high-quality CBD oil priced 70% lower than the average market price. Sound too good to be true?
CBD has the same CBD as more expensive extra strong CBD products, in terms of the core ingredient. CBD is CBD, our oils stand up to quality, taste and accuracy in tests. Just like other CBD brands (possibly even better)!
Flavour Profiles
Our CBD oils are all naturally flavoured with real cannabis terpenes. We have carefully selected hundreds of unique cannabis compounds and natural fruit flavours to produce CBD oil flavours such as:
Berry, reminiscent of homemade Strawberry Jam
Citrus, a refreshing subtle tang of Lemon and Lime
Natural, a perfect mellow earthy CBD flavour